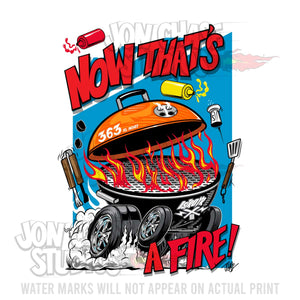 That's A Fire! Art Print
My mind is jamming now on different ideas, and this is a perfect example of that. Imagine what if you could hot rod things that are generally not hot-rodded? This is a new series I am doing based on this idea. 
My Dad had this exact Weber grille back when I was a little kid. The orange top faded out after many summers of his grilling using charcoal and lighter fluid. So when I thought of doing this piece, I was instantly transported back in time and remembered all those summers in my youth. While I was drawing this I looked back on those days of being a carefree kid having fun in the summer. I think we could all use a little of those days right now. 
I have more of these ideas coming out soon!
Proceeds from the sale will go to The Child Mind Institute charity. 
This is printed on high-luster paper 
All sizes are width x height format, in inches.
The vendor of this product has a turnaround time of 2-3 weeks to ship.
---
We Also Recommend