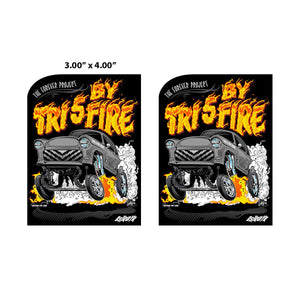 Tri 5 By Fire Sticker Set
My new design for my old 55 Chevy Tri 5 By Fire gasser!
My forever project car holds a special place in my heart. 
These stickers are made from high-quality vinyl, making them resistant to fading, cracking, and peeling. They are also waterproof, making them suitable for use on cars, trucks, motorcycles, and other outdoor equipment. The Tri 5 By Fire sticker set is the perfect way to show your love for classic American cars and add a touch of nostalgia.
This set comes with two stickers.
The size of this sticker is 3.00" x 4.00"

---
We Also Recommend